About us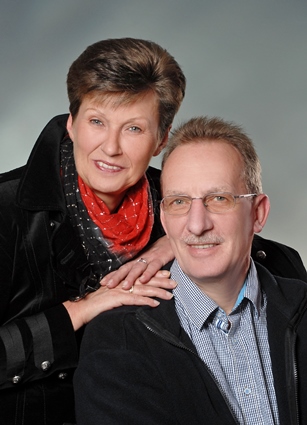 We are in the 2nd Generation in our creative, artistic and traditional Kürschner Handwerksberuf tätig.In the years 1982 and 1983, we passed the Kürschner Meister exams.
Together with my husband, I worked in his parents' business to switch to a company that made women's outerwear in large series.
In 1987, we decided to choose self-employment as a family business. Thus, we were able to give free rein to our creativity. We gladly surprise our numerous customers with new ideas and solutions. In 2006, we gave ourselves a clean-up book for Christmas. Read and implemented. First in the attic and in the workshop. We noticed a cushion prototype made of leather and fur in the hands. Instead of disposing of it, we decided to auction this pillow on the Internet. We did not expect such a huge response. This pillow was auctioned at an unbelievable price with many observers, so we decided at that time to conquer a new market and the demands do not abate until today.
The idea was born: "The pillow for all cases".
The idea continues to evolve
We have invented our Karawunzlator "neck pillow with weight" and other great comfort-promoting pillows, for example, to create more comfortable seating positions and relieve tension and back-neck and headache or help prevent.
Many solutions have already been developed in our ideas workshop. For example:
Yacht owners: the chrome-plated railing did not go well with naked skin and got a saltwater-resistant artificial leather cover.
Hunter: the high stand conquered beautiful soft leather cushions (with straps) to the relaxed Ansitz.
Practices: Face crochet, storage rolls and cushions, chair cushions, exercise mats for relaxed massages, treatments and exercises.
Business premises: Bench cushions, bar stool and chair cushions in real and imitation leather, complete the uniform appearance of your business appearance, of course in the colors of your corporate identity.
Kitchens: Cooking Plaids for ceramic / hob and induction cookers in various sizes and colors. Also in real leather.
That's what you have now
Our focus is on individual products with the natural uniqueness of affordable customization as well as individual series.
These topics have been a recurrent theme throughout our curriculum vitae since our apprenticeship. Our customers profit from the extensive experience of various companies, locations and orientations.
Our work is NOT characterized by numerous colorful works with wild theories and garish patterns! We believe that change is not only an opportunity for more success, but also brings fun.
My husband and I are characterized by a high customer orientation, pragmatism as well as solution and value orientation! Our goal is that each customer gets an individual, practical and implementable solution that makes his personal environment or even his company sustainably more successful - just a tailor-made solution!